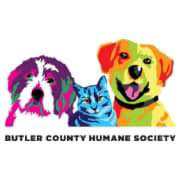 Butler County Humane Society
Renfrew, PA
The Butler County Humane Society, a non-profit organization, in association with the Helen Spaide Albig Adoption Center, provides a temporary, safe, no-kill shelter for homeless, adoptable dogs and cats ultimately placing them in loving homes or with caring rescues while increasing community awareness of the humane treatment of animals through education, spay-neuter programs, rabies clinics, and the respect for life.
Cat Tower - Walnut - 3 Nest - Vinyl - Smoke
Progress: 3 / 3

$110.00
This product has reached its donation goals. Please consider donating another product!
Kennel Bed - Walnut - 35 x 23 - Vinyl - Smoke
Progress: 13 / 20

$74.00
Fleece Blanket - 35 x 23 - Oatmeal
Progress: 32 / 40

$27.00
Cat Bed - Walnut PVC - 21 X 15 - Vinyl - Smoke
Progress: 7 / 10

$40.00
Fleece Blanket - 40 x 25 - Oatmeal
Progress: 7 / 20

$29.00