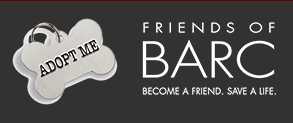 Friends of BARC
Houston, TX
Friends of BARC was founded in 2003 by a group of animal lovers looking to support the humane care and treatment of the animals residing at BARC—the City of Houston Animal Shelter—and to help them find a chance for a better life.
While BARC is fully funded with taxpayer funds, Friends of BARC is a 501(c)(3) non-profit organization and is funded 100% by donations. All donations made to our group are used to help the animals residing at the shelter. In addition to sponsoring weekly adoption events, we step in and help when the city budget is unable to support the needs of the animals.
Thank you for your donation of a Kuranda ShelterBed to give the animals at BARC the quality rest they deserve.

Yes! All items that are donated to a Shelter or Rescue get discounted prices.
All Donations shipping to the lower 48 states receive free shipping.
Friends of BARC has already filled out their shipping address for your donation order. All orders ship directly from us to them. You and the organization will receive tracking information, so you both will know when your donated items are delivered!
Bed - Anodized Aluminum - 35 x 23 - Vinyl - Burgundy
Progress: 15 / 100

$119.00
Kennel Bed - Almond - 35 x 23 - Vinyl - Forest
Progress: 6 / 100

$79.00
Kennel Bed - Almond - 30 x 20 - Vinyl - Burgundy
Progress: 8 / 100

$73.00