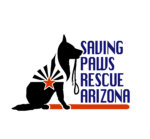 Saving Paws Rescue
Glendale, AZ
Saving Paws Rescue Arizona is an all-volunteer, 501(c)(3) charitable organization in Phoenix, Arizona. We are dedicated to providing veterinary care, evaluation and adoptive homes for German Shepherd and Belgian Malinois dogs who are left in pounds to await uncertain fate, are owner surrenders (such as divorce, death, etc.) or are from abusive or negligent situations. We help provide a safe harbor for these dogs that might otherwise be destroyed.
Yes! All items that are donated to a Shelter or Rescue get discounted prices.
All Donations shipping to the lower 48 states receive free shipping.
Saving Paws Rescue has already filled out their shipping address for your donation order. All orders ship directly from us to them. You and the organization will receive tracking information, so you both will know when your donated items are delivered!
Fleece Blanket - 44 x 27 - Oatmeal
Progress: 0 / 20

$34.00
Fleece Blanket - 50 x 36 - Oatmeal
Progress: 0 / 10

$41.00
Bed - Anodized Aluminum - 50 x 36 - Vinyl - Royal
Progress: 0 / 10

$177.00
Bed - Anodized Aluminum - 44 x 27 - Vinyl - Royal
Progress: 0 / 10

$142.00
Crate Bed - Almond PVC - 44 x 27 - Vinyl - Royal
Progress: 0 / 10

$101.00